ČLOVĚK S OBCHODNÍM DUCHEM
Hledáme komunikativního člověka se základní technickou orientací v ICT. Ideálně obchodně a prozákaznicky orientovaného, s vysokou zodpovědností za svěřené cíle.
V prvních krocích jde o solitérní, samostatnou pozici; po prokázání obchodních výsledků očekáváme budování a vedení vlastního obchodního týmu.
Spoluzodpovědnost za obchodní rozvoj a růst společnosti – tvorba obchodní strategie.
Oslovení zákazníků a realizace obchodních jednání (pro představu cílové skupiny – průměrná velikost zákazníka je 33 PC zařízení v naší správě – pracujeme s klienty, kteří jsou ve svých oborech lídry na trhu).
Zjištění potřeb a požadavků v oblasti IT.
Návrh účinného IT řešení (spolu s naším odborným týmem) a uzavření spolupráce v oblasti služeb outsourcingu IT a implementace IT technologií, příprava smluvní dokumentace.
Pokud víte, jak funguje správa firemního IT v běžné společnosti, můžete se opřít o svou odbornost (například jste správce IT) a k tomu máte obchodního ducha, jste ideální kandidát pro pozici Obchodník v IT.
Pokud jste pracoval/a ve firmě, kde měli interní IT a pochopil/a jste druhou, uživatelskou stranu – co je pro koncové uživatele důležité, a jak vnímají svou IT podporu, máte základní povědomí o IT oblasti a vedle toho skutečně silný zájem prosadit se v obchodu IT, jsme připraveni Vás postupně naučit nejdůležitější odborná fakta pro rozhovory s klienty a úspěšnou realizaci zakázek.
Pracovní rozmanitost, žádný stereotyp – jednání s klienty, cestování (pobočky Brno, Praha, Ostrava a Olomouc; cesty ke klientům), spolupráci s kolegy.
Velkou časovou flexibilitu práce s tím, že pondělky jsou vhodné pro práci na některé z poboček pro nezbytnou osobní komunikaci a spolupráci s kolegy, report výsledků a administrativu; zbytek dnů v týdnu je zcela v kompetenci pozice.
Transparentní hodnocení dle obchodních výsledků (systém základní mzdy + provize z prodeje + mimořádná odměna vázaná na roční cíl).
K výkonu pozice náleží služební auto a to i k soukromým účelům, notebook, neomezená volání (samozřejmě je k využití firemní balíček benefitů – 100 Kč stravenky, 25 dní dovolené, firemní týmové aktivity…).
Dáváme si záležet na předávání kvalitního know-how pro úspěšný výkon i rozvoj pozice, jsme připraveni sdílet důležité zkušenosti a spolupracovat na odborném růstu.
Obchodní dovednosti, nasazení a vytrvalost, která k obchodu neodmyslitelně patří.
Řidičský průkaz (sk. B) pro realizaci jednání s klienty a osobní kontakt s pobočkou.
Týmový duch, zájem o IT oblast a ambice se postupně zdokonalovat a budovat svůj obchodní tým.
Příjemné vystupování a jednání se zákazníky.
Zodpovědnost a spolehlivost.
"Každý se staráme o jiného zákazníka, ale pokud nastane problém, navzájem si pomůžeme.

Vím, že na to nejsem sám."
Dušan
IT specialista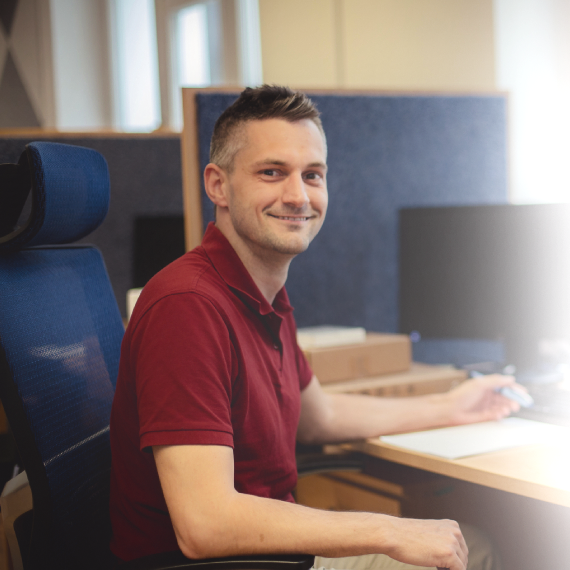 ZAUJALA VÁS NABÍDKA?
Více informací k nabízené pracovní pozici je možné získat na kariera@comgroup.cz. Neváhejte, pošlete nám svůj životopis nebo vyplňte kontaktní formulář, my se Vám ozveme a domluvíme se na osobní schůzce.